For those you love!
Because the safety and health of our children is not a game and it can be simple and enjoyable to learn how to rescue and care for your child, buy the program now!
The topics addressed
Choking

Learn how to unclog a child aged 0 to 8 years old.

Resuscitation

Learn how to resuscitate a child (0-8 years old) who has suffered a cardiorespiratory arrest.

The wounds

Learn how to treat your child's minor injuries.

Severe allergies

Learn how to recognize and manage a serious allergic reaction.
Fever

Understand and better manage your child's fever.

Respiratory problems

Learn to recognize if your child has breathing difficulties.

Nasal hygiene

Understand its importance and master the method!

Preschool

What medications can we bring and what are the responsibilities of the daycare center.
The mission of the program
The mission with this online program is to allow you to know how to recognize and treat emergencies at home. It will help you feel confident because you will know what to do if your child experiences a life-threatening emergency, becomes ill or is injured! On the road to autonomy, prevention and safety for our children!
incredible value!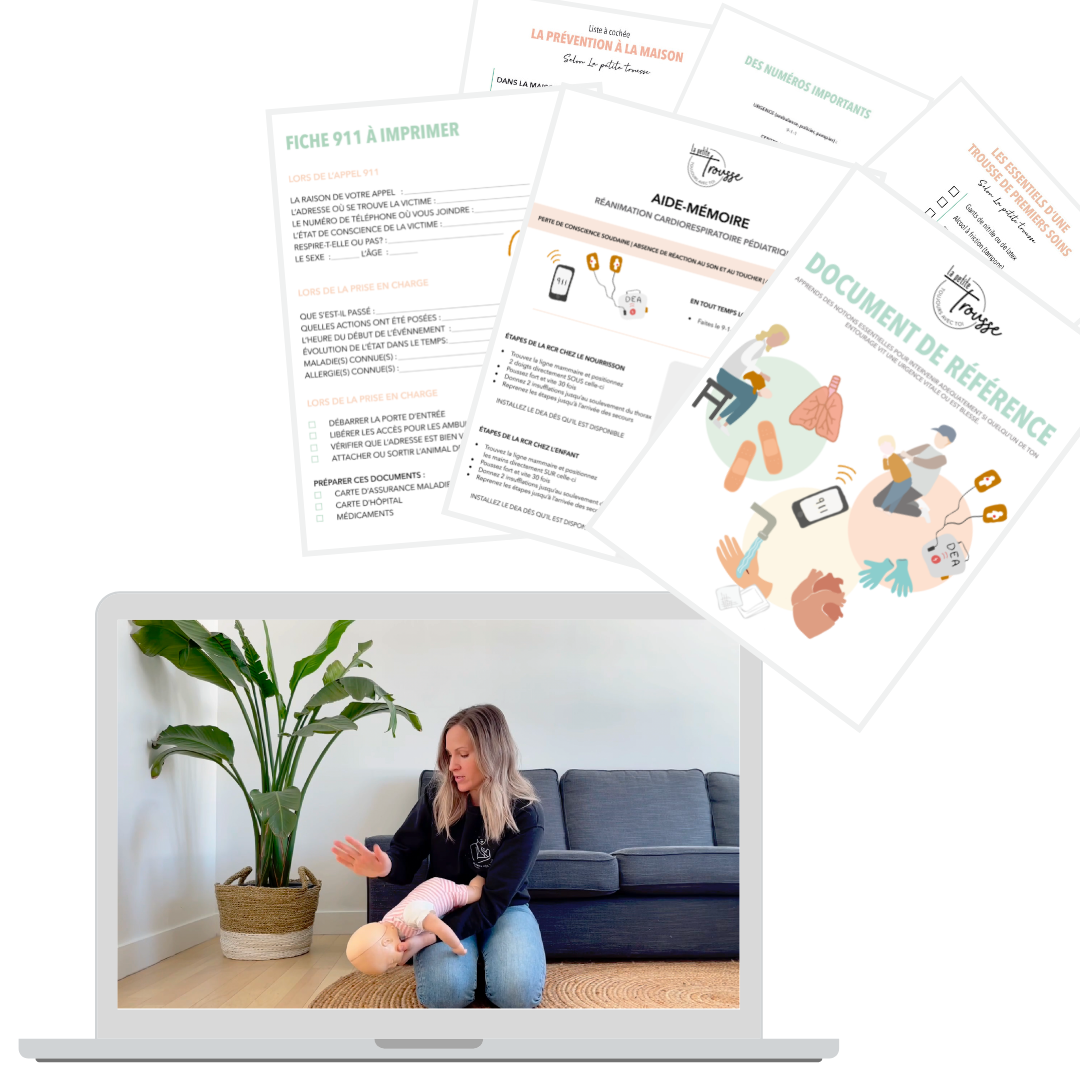 Video capsules

Dozens of video clips dealing with first aid!

The lessons are taught via short video clips and everything is organized in a simple and effective way. Go through the sections at your own pace!
Documents

Download a ton of documents to support your learning!

70-page document on first aid
Checklists
A document for the family circle
Cheat Sheets

and more !
Knowledge tests

After each of the first aid sections, confirm that you have assimilated the material by doing short skills quizzes. If you don't get the desired result, you will just have to revisit the less well-mastered subjects!
BONUSES

And to give you more, we're offering these bonuses for free with the purchase of the program!

More than 15 video capsules on the overall health of children offered by Alliance Sant← 24/7.
A 20-page document on the overall health of children.
A Facebook group to support you in your learning
Lifetime access to your content!
Because your children will grow up and your needs will change, you keep access to your program for life*! So check out the content that interests or concerns you now and enjoy the rest later!
*The term "Lifetime" refers to the lifespan of the company or until it redefine its activities. Access guaranteed for at least 5 years.
I'm coming !